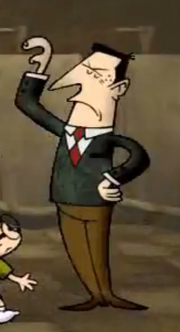 The
Principal
is a character found in
Alcatraz Elementary School
 and in the T.V show. In the game, when
Ned
is walking to the bathroom, the principal appears out of nowhere and drags Ned to his office. He wrongfully accuses Ned of clogging the toilets, causing the teacher's lounge plumbing to have problems, when in actuality,
Conrad & Vernon
are the culprits, who were leaving the bathroom as Ned entered, framing him. The Principal is shown to laugh at Ned's misfortune. Ned is able operate the switchboard and select which line for the principal to call, and then hit the call button. If Ned chooses the wrong line, one of two things will happen: Ned's parents will show up and take him, returning Ned to
the quilt
causing him to lose an hour, or another student's parents will show up mistaking Ned for their child, returning Ned to
Alcatraz Elementary
. Every time the Principal dials a wrong number, he nearly uses a profanity, but corrects it with something school-appropriate, and then either a monkey will appear and bounce on Ned's head or a small man in a graduation cap and cloak will appear and slap him with a rolled-up diploma. 
In the show, he appears in the episode "Dapper Dan". He takes Ned to the football stadium on his golf cart where the school's Dapper Dan award is being presented for Ned for being the best dressed student 4 years in a row. He's the first one to discover that Ned is naked and takes off with the marching band and the T.V crew when the kids attack Ned, being angry that Ned was ironically not dressed for his award.
Community content is available under
CC-BY-SA
unless otherwise noted.